Events
There are many opportunities to engage with others in the community. Check out what's coming up: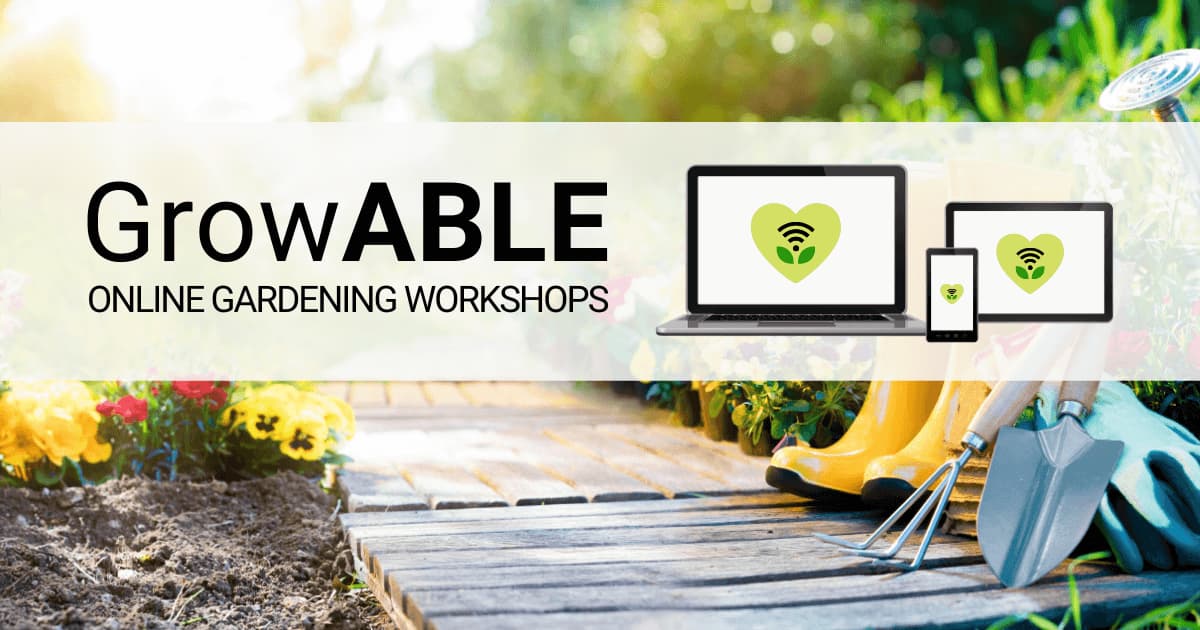 All of us at the Disabled Independent Gardeners Association are so excited to announce our new virtual gardening workshop series – GrowABLE!
In an effort to grow our gardening knowledge, partner relationships and connections to the disability community, GrowABLE is an online adaptation of our in-person workshops. We want to build a virtual community garden experience where participants from all over the country can connect and learn together. We can still bloom where we're planted; our goal is to educate and inspire people through this challenging time, and to grow the size and social ties of the community through online participation.
In order to continue safely engaging in our community, DIGA will be hosting GrowABLE virtual workshops every two weeks via Zoom for our members. These workshops will start in September and continue through January.
Not a member? Fill out our membership form today – it's free!
---

Virtual Medicinal Plant Walk with Herbalist Katolen Yardley
November 6, 2020
@
3:00 pm
–
4:00 pm
PST
Join us online for a 1-hour virtual plant walk where we will see and learn about local medicinal plants which can be used for food, common first aid and home care. We will learn how to prepare these herbs as infusions and decoctions. We will cover the plant parts for use, how to prepare for medicine and where to obtain these products for home use.
Please note: This session will not be recorded per request of our host, so make sure to register to attend in Zoom!
Katolen Yardley, DO (EU) MNIMH, RH (AHG) – Medical Herbalist
Katolen is member of the National Institute of Medical Herbalists, seeing clients in her private practice since 2000 specializing in women's health, digestion and nervous system disorders. She has a degree as Doctor of Osteopathy (EU) and provides manual osteopathic therapy. She is adjunct faculty at Boucher Naturopathic College, a clinic supervisor and instructor at Dominion Herbal College, BC. Katolen was the past President of the Canadian Herbalist's Association of British Columbia (CHA of BC) (2015-2019) and current President of the Canadian Council of Herbalist Associations (CCHA). For 18 years, Katolen appeared monthly on a nationally syndicated morning news, Global Television, where she offered herbal information to the public; Katolen specializes in women's health issues, skin dis-ease and digestive disorders and believes in providing usable tools for healing through inspiration and education.
Her personal interest in health lies with the emotional connection to wellness and dis-ease. Her first book "The Good Living Guide to Natural and Herbal Remedies" (Skyhorse, 2016) has been in the top 10 in its category of herbal medicine on Amazon. Her personal website is www.katolenyardley.com and her business www.alchemyelixir.com. Follow her on Facebook.