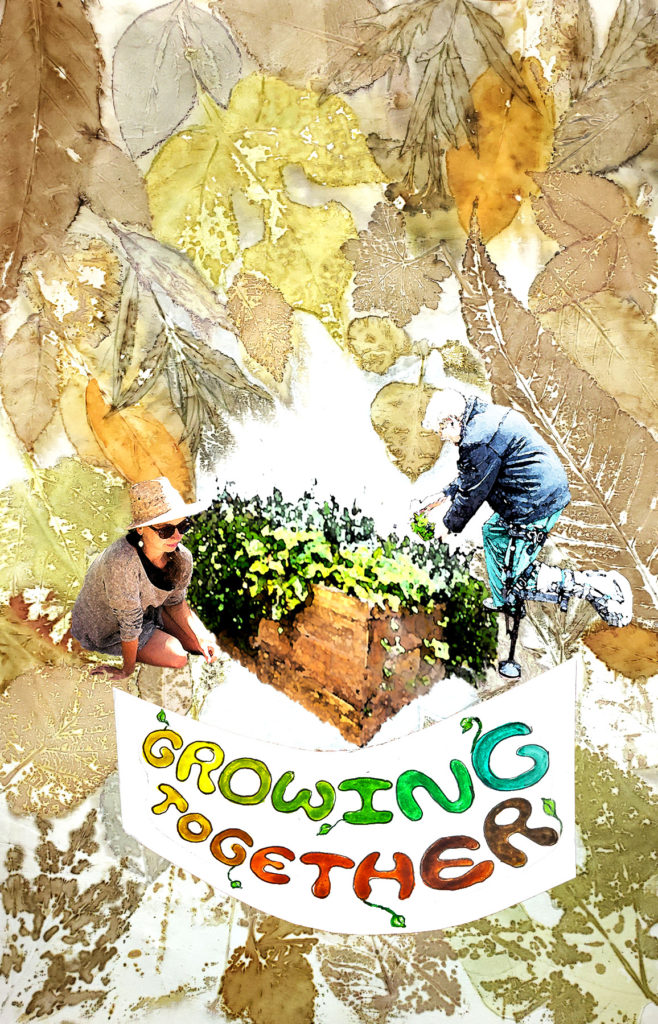 Growing Together is a Podcast Series that will cover a range of topics related to food security and disability.
This series will look into food security and disability related initiatives in Canada from coast to coast. Some of the many initiatives include a community food center in Iqaluit, Nunavut, a food justice art project in Duncan, British Columbia, an accessible garden in Halifax, Nova Scotia and the Disabled Gardeners Association in Vancouver.
You can look forward to interviews where individuals share their stories, insights and their work that all touch on the importance and beauty behind food and growing food and solutions for equal access.
New podcast episodes will be released every Thursday starting October 21st.
This podcast was developed with support from Ingenium: Canada's Museums of Science and Innovation.
Episodes
Growing Together Ep. 7: Not Your Typical City Garden
This episode feature Marie-Pierre Bilodeau, the founder of Refarmers and Brenda Dyck, an avid guerilla gardener and creator of the Guerilla Garden Adventures website. They will both shed light on the power of small scale urban gardening and the ways gardening can be made more accessible to urban dweller and personalized for people with disabilities.
---
Growing Together Ep.6: Surprise Peas!
This episode of Growing Together features Milena Khazanavicius, a gardener at the Common Roots Urban farm in Halifax Nova Scotia. Milena discusses her love and passion for gardening and the ways the Common Roots Urban farm is working to make gardening more accessible for her as a blind woman.
---
Growing Together Ep.5: Mussolini Stole My Pot
This is a special episode hosted by Samantha Moore where she and her close friend, Shaini, share their personal experiences as visually impaired young women with regards to food and culture. Hear their stories around cooking, family, friends and traditions.
---
Growing Together Ep.4: More Than A Soup Kitchen
Episode four of Growing Together features Rachel Blais, the Executive Director of the Qajuqturvik Community Food Center located in Iqaluit, Nunavut. Rachel speaks to the food center's wholistic approach towards addressing food insecurity in Iqaluit and the ways in which the center reaches those with disabilities and fosters community.
---
Growing Together Ep.3: Through The Lens Of A Camera
Episode three of Growing Together features Jules Sherred, an accredited food photographer, writer and activist. Within this episode, Jules speaks to his upcoming and highly anticipated photography and video exhibit that showcases the food-related stories of disabled Canadians, Canadians from culturally diverse backgrounds and food and beverage producers. He also speaks to his website, the Disabled Kitchen and Garden, that focuses on making cooking and gardening easier for people with a variety of disabilities.
---
Growing Together Ep. 2: Accessible Gardening Part 2
This episode will discuss DIGA's future projects and introduce the Tetra Society, one of DIGA's affiliate society that often works together with DIGA to find innovative solutions to overcoming barriers to accessible gardening.
---
Growing Together Ep. 1: Accessible Gardening Part 1
Episode 1 will feature partners at the Disabled Independent Gardeners Association (DIGA) and the Disability Foundation in Vancouver, British Columbia. DIGA is a small affiliate society of the Disability Foundation, dedicated to helping those with disabilities overcome their barriers to gardening.
This episode will focus on the specific programs offered by DIGA and how gardening can not only enhance the quality of life for those living with disabilities but also improve food access.